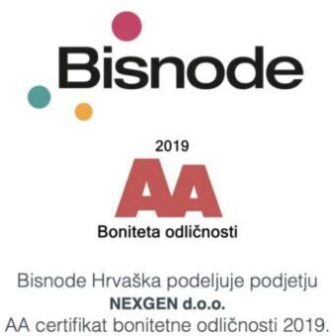 Before entering a new business relationship it makes sense to check how well your potential client or partner has managed their business in the past. So you're aware of any potential financial surprises like sudden bankruptcy or invoices potentially not being paid in time.

Since 2015, Nexgen has been rated by Bisnode with brilliant results.
"This certificate from Bisnode Hrvatska certifies that the business entity fulfils the international standard of excellence in creditworthiness and belongs to the highest order of excellence in creditworthiness in Croatia. The business entity meets the criteria for excellence in creditworthiness in 2020, and is one of the most reliable business entities in Croatia, entitled to use the internationally recognized AAA status, which represents the global standard of excellence in creditworthiness."
See our Bisnode risk-evaluating results in detail here.